FREQUENTLY ASKED QUESTIONS

Q. Do you (the owner) actually work on our floor, or do you send crews or sub-contract the work out?

A. Yes it's true I actually work on almost every job! Unlike other companies that just send a couple of apprentices over, or just sub' the entire job out. This way I can assure your satisfaction and you need not worry about who is on your property.

Q. Are there any health concerns related to wood flooring?

A. Leading allergists will agree that naked floors are an ideal choice for a healthy home. Wooden floors are easy to clean and will not harbour dust mites or mould. As we spend 90% of our time indoors with our floors, clean floors are a must. Researchers believe a microscopic insect "the dust mite" could be responsible for increasing rise in asthma.

Q. How long does it take to sand and finish my old floors?

A. The average size room takes one and a half days from start to finish. We use fast drying sealants which will enable you to walk gently across the floor with your shoes off after 2 to 3 hours. We then recommend 18 hours before resuming heavy foot traffic and replacing furniture.

Q. Is it very dusty?

A. To maximise dust extraction and keep dust to a minimum, we have invested heavily in industrial type sanding machines and dust extraction units, in addition we put up plastic sheeting and use masking tape to seal doors so as to contain the dust in areas in which we are working. Many of our customer's compliment us with positive feed back, as they are surprised how very little dust is created.

Q. Do you come in and move furniture?

A. We normally do not move your furniture. Moving furniture is the customer's responsibility, due to insurance restrictions not covering us for injuries or damages sustained while moving furniture.

Q. Will I need to stay out of the house during the process?

A. The sanding process is extremely loud and some finishes (polyurethane) contain strong chemicals. We recommend leaving your house, unless you have a separate floor to stay on. If you are having several rooms sanded we can work around you. Because of the noise levels we do recommend out of courtesy that you inform your neighbours in advance that work is about to be carried out on your property.


HOW TO MAINTAIN
Nothing is more attractive than wooden flooring. It adds beauty and warmth to any room. If you want to make that beauty last, you must make a special effort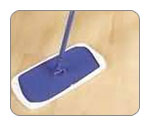 when it comes to maintaining wooden flooring. By properly maintaining and caring for your wooden flooring, you can ensure it looks as wonderful as the day it was installed.
If you know who manufactured your wooden flooring, you can easily follow the company's instructions. No one knows better how to care for wooden flooring and its particular finish better than the manufacturer. If instructions weren't included, you can contact the company and ask what their maintenance procedures are. You should never attempt to care for your wooden flooring before knowing its type of finish. Each finish usually has its own set of procedures to follow. If you aren't sure what they are, either contact the manufacturer, or research the finish online.
Urethane floors should never, ever be waxed. Most wooden flooring installed today has a urethane finish. If you aren't sure if your flooring has a urethane finish, either contact the store from which you purchased the flooring, or avoid waxing just to be on the safe side.
Products that aren't specifically designed for the care of wooden floors should never be used. Acrylic waxes with self-polishing properties can dull the wood's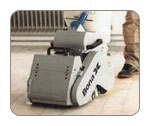 appearance, and it can also cause the wood to become slippery. If you should mistakenly use this type of product, the only way to reverse the results is to sand the floor and refinish it.
Wooden floors may look great, but they can easily become dull and scratched if they are in high traffic areas throughout the home. Maintaining wooden flooring in these areas is as simple as placing rugs and runners in those places to collect any dirt, sand, and/or grit that can be tracked in on shoes.
Wooden floors should be vacuumed and swept on a regular basis. Moisture can warp and stain wooden flooring, so wet-mopping is not recommended. If wet food or beverages should come in contact with wooden flooring, wipe it immediately with a dry, or even slightly damp cloth and then wipe the area until it is completely dry.
If your floor has a wax finish, shine can easily be restored if you buff it. A floor buffer is a good investment for anyone with wooden floors. If you need to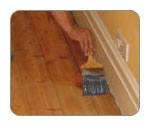 move furniture or heavy objects over your wooden flooring, use plastic or furniture glides to prevent scratching and scuffing. Never walk on wooden flooring with shoes that can dent the surface such as sports shoes, cleats, or even high heels.
Lastly, maintaining wooden flooring in a kitchen is a must. A rug should be placed in front of the sink to ensure moisture from dripping and splashing doesn't warp or stain your floors. Mats should also be placed in areas where heavy traffic often occurs. Maintaining wooden floors can be easy as long as you're willing to put in the time and effort.
PRODUCTS



TESTIMONIALS




"Very professional service, lovely people. Whenever we had to contact them they returned our calls, cannot fault them.
Our room looks wonderful, we are delighted with it and are very tempted to have them back in the very near future to do the rest of our house."


Rob- High Barnet -London




"LJ Services- Floor Sanding Experts provided a very professional service - sanding, staining and varnishing our wooden floors in only 2 days. Their workmanship is of a high standard and they are incredibly helpful and efficient. Our floors look absolutely fantastic and we would definitely recommend their services to family and friends! "
Mike and Nicky- Clapham South -London




"Marc and I just wanted to let you know how pleased we are with the excellent work your company did on the two floors of our apartment. We've have lived here for nine years and I had planned to have the floors resurfaced and sealed when we moved in - but it never happened. Then we got furniture - so I was dreading having it done because the expected mess.

What we were particularly impressed with the lack of mess / dust - and the speed with which you accomplished the work. Ironically have invested in exotic rugs to cover what was an awful - we don't really need them any longer!<"
Phill Ward and Marc Berman
- Clapham South -London




"A highly professional service I love my new flooring so much that I am saving for them to come back and do the lounge. I have no hesitation in recommending them - they are great people, trustworthy, courteous and experienced in their trade"
Jacky- Finsbury Park -London




"Lukas and Ania from Floor Sanding Experts run a very professional services, take pride in the work and the quality of the finish is great. They did ~100 sqm of Parquet flooring for me of which over 60 sqm was the old blocks that had also been in the garden for a number of weeks while building work was being done. Many companies would not even pick up the work as they only want to work with new blocks (the easier work). Even when we realized the work will be more difficult since each block had to be cut to size they just worked with the issue and completed what they had agreed. 99% of companies would have walked away or tried to re-price the job.They were on-time, clean, a joy to have working in my house. They also finished my oak staircase and front door.
thanksSatish"
Satish - Northwood/Watford